Jacksonville College is accredited by the Southern Association of Colleges and Schools Commission on Colleges (SACSCOC) to award the following: Associate Degree, Junior College Diploma, and Continuing Education Units. Questions about the accreditation of Jacksonville College may be directed in writing to the Southern Association of Colleges and Schools Commission on Colleges at 1866 Southern Lane, Decatur, Georgia, 30033-4097 by calling 404.679.4500, or by using information available on SACSCOC's website (www.sacscoc.org).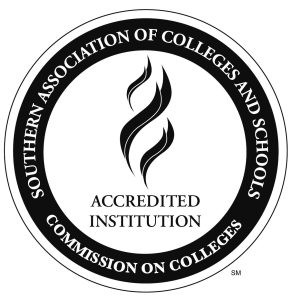 Institutional Effectiveness
Committee
This committee is appointed by the Cabinet and reports to the Director of Institutional Research. The Director of Institutional Research chairs the committee. The committee members include the Administrative Vice President, Registrar, Director of Systems and Communication, and one SGA Representative. It is charged with the task of overseeing the ongoing assessment process. It is the responsibility of this committee to review the goals that support the mission of the college, evaluate the assessment documentation, and utilize the results for improvement. It is also the responsibility of this committee to train college personnel in institutional effectiveness.
Model
The model used by the Institutional Effectiveness Committee to document effectiveness is the "five-column model" developed by Dr. Jim Nichols, a leading authority on effectiveness and assessment in higher education. The model divides the process into five sections, each of which is represented by one column of the model.
Documents
Quality Enhancement Plan
Jacksonville College's 2020 Quality Enhancement Plan (QEP) "Going the Distance with Distance Education," embodies the institution's determination to strengthen student success in online education courses. The goal is to enhance online learning through online tutoring and faculty training. Over the next five years (2020-2025), the QEP will focus on strengthening online student-to-instructor communication and online student-to-student communication.
Substantive Change
Articulation Agreements
Student achievement measure