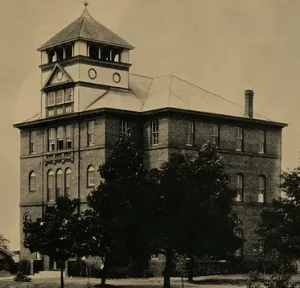 Moved by the need for a private Christian college in East Texas, a group of earnest Baptists met in Palestine, Texas in March of 1899. They formed a permanent organization known as "The East Texas Educational Society."

The following officers were elected:
President – A. W. Weing

Vice Presidents – D. L. Scarborough and R. B. Longmire

Secretary – C. A. Lawler

Treasurer – W. J. Foscue
They proceeded in their plans to establish an institution which would provide Christ-centered teaching and training. The city of Jacksonville backed their choice for the location of the college.
The East Texas Educational Society applied for a charter for Jacksonville College on June 10, 1899. The procedure was executed by A. P. Schofield, W. J. Foscue, R. B. Longmire, and J.M. Newburn, then acting in the capacity of a corporation.
The charter was approved and signed by the Secretary of State of Texas, July 26, 1899. Dr. J.M. Newburn, a founding trustee and the third President of Jacksonville College stated that our institution was born in a "Baptist pastor's home, amid earnest prayers" and the "unyielding loyalty to the faith of the fathers and the rising generation." God blessed that loyalty, drawing students from all over our region, state, nation and world.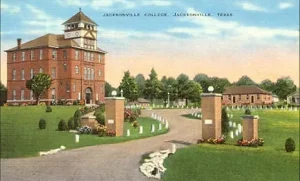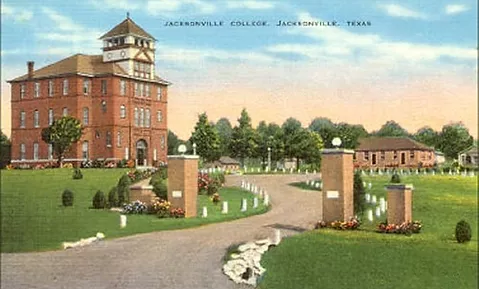 The upper story of the Templeton building on South Bolton Street was rented and the school opened in September with an enrollment of 34 students. Enrollment increased to 85 students before the end of the opening session.
Before Christmas, the three-story brick building was completed and classes were moved to the new location. Since that date, all activities of the college have been at the present site.
In the original organization, the college was organized on the senior college level, awarding the Bachelor of Arts Degree to its graduates. The college functioned as a senior college until 1918, when it was reorganized on the junior college level. The college has continued to function on the junior college level since 1918, awarding its graduates the Associate in Arts and the Associate in Science Degree.
The Jacksonville College Academy was organized in 1918-1919. Its purpose was to offer a four-year course measuring up to the standards of high school work. The academy became affiliated with the State Department of Education in 1919. It maintained affiliation with the State Department until discontinued in 1958.
In 1923, the original charter was amended and a historical relationship with the Baptist Missionary Association of Texas began. This relationship continues today. In July of 2004, the college also became affiliated with the Southern Baptists of Texas Convention.
Today, the college affiliates with the Baptist Missionary Association of Texas and Southern Baptists of Texas Convention.